Peak Design's impressive Travel Tripod Kickstarter campaign now has over 10,000 supporters and $4.6m pledged — no surprise for this fantastic new tripod design that folds more compactly.
We've spent some time reading and studying their Kickstarter campaign material and we are super impressed with three neat features (beyond the main draw of a super-compact and super-light tripod).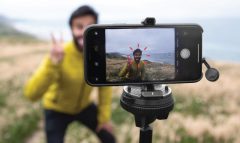 The Phone Attachment. Although this tripod was primarily designed for serious DSLR usage, with a 20-pound weight capacity (sturdy enough for a DSLR + a telephoto zoom), let's admit it — we've all occasionally used our mobile phones for a quick snap or selfie. The tripod has an innovative universal mobile phone mount that is magically hidden within the tripod's center column for easy stowage.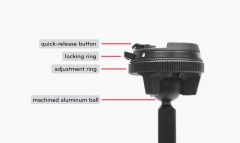 Ball head with single control ring. A very innovative ballhead design has a single adjustment ring that enables 360 degree articulation of the ballhead. Three portrait mode cutouts enable the ballhead to be flipped into portrait mode at several orientations. A very clear locking ring design makes it easy to confirm your camera is firmly locked in place.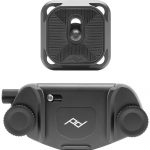 Compatible with Peak Design Capture Clip. Probably the coolest feature of all — the camera plate for the tripod is the same camera plate that comes with the Peak Design Capture Clip. This means you can go from strap (or belt) to tripod, and back, in one quick motion. The tripod is also compatible with the rest of the Peak Design ecosystem, from carrying straps to bags.
The Kickstarter campaign is the best way to save on a Peak Design product — save up to 20% vs. the future retail price, and be among the first to receive the new product. Pledging $289 gets you the aluminium Travel Tripod; $479 gets you the carbon fiber Travel Tripod, but only for a limited time. Check out their Kickstarter campaign today.